Kindle A Flame In Her Heart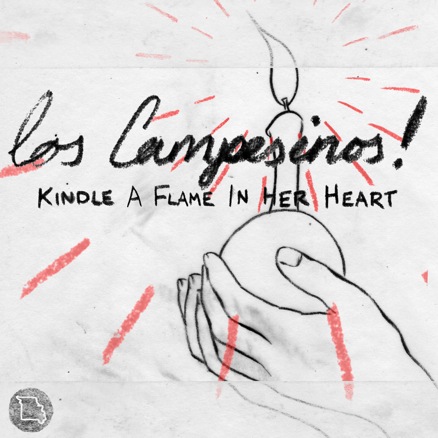 Download a brand new Los Campesinos! Christmas Song, Kindle A Flame In Her Heart, for free.
"HARK!" the herald angels sing, "the boy's a cherub, let him be".
And you harmonised more beautifully than they could.
At 8 years old I played the role of Gabriel dressed head to toe,
in white denim though with less optimistic foresight.
Your lips land lightly, like Robin Redbreast's feet in the snow,
I hold you tightly like your halo's lined with mistletoe.
Thawing my heart like morning frost, falling under my feet.
Oh silent night, oh lonely week
Merry Christmas
I wish you were here
Merry Christmas
Maybe 5, 10, 15, 20 years.
Kindle a flame in her heart,
kindle a flame.
You've got to untie me from these bows,
wrap your arms around me like swaddling clothes.
On the sixteenth day I opened up the window,
found a lump of coal and rammed it down my stupid, greedy throat.
On the seventeenth you came around, my tiny teeth had been ground down,
but then you turned them back to smiles with just one kiss,
now listen to this…
Produced, recorded and mixed by Tom Campesinos!.
Trumpet by Tim Cronin.
Mastered by Joe Burns.
Many thanks to Tim and Joe for their help on this track.
Kindle A Flame In Her Heart by Los Campesinos!
December 8th, 2010 in
WHEAT